Anyone that enjoys gardening as a hobby knows how relaxing and calming it is to potter around in the garden for a few hours, and an increasing amount of recent research backs up what us gardeners already know. In fact, it has been proven that one particular bacteria that appears in garden soil triggers the release of serotonin when a person has direct skin-to-soil contact, therefore acting as a natural antidepressant (read the news article here).  
Horticultural Therapy Organisations
In the U.K., the mental health charity Mind has incorporated eco-therapy programmes, including gardening programmes, into the services that it provides to people living with mental health issues. In 2013, the charity released the report 'Feel Better Outside, Feel Better Inside' which included research findings from The University of Essex showing the many benefits of eco-therapy for mental well-being. It has been proven to improve mental health, boost self-esteem, help people with mental health problems return to work, improve physical health, and reduce social isolation. Thrive  is another UK organisation that uses 'social and therapeutic horticulture' to bring about positive change in the lives of people living with ill-health and disabilities.
Therapeutic gardens are often used in institutional settings as part of the ongoing care and rehabilitation of patients and clients. These gardens are usually on a larger scale than the typical home garden and are designed to address the specific needs on a group of users. However, there are elements of these therapeutic gardens that the home gardener can incorporate into their own outdoor space to make it a place of healing and rejuvenation.
What Are your Goals? 
It might seem counter intuitive to think that goals are important in a healing garden, but if you have a particular health-related issue that you want to address, it makes sense to design a garden that will help with this. For instance, if your goal is to keep active by using gardening as physical exercise, then building raised vegetable beds that you can plant and tend would be a great idea. If your aim is to de-stress in your garden, focus on creating a quiet space with the sounds of nature and minimal care requirements.
When you have had a chance to think about your goals, think about what the garden might look like. A small garden crammed with as many blooms as possible may be your idea of tranquility, for your neighbour, a minimal zen garden with ordered symmetry may put their mind at ease. You will probably intuitively know what a restorative garden means for you but if not, look through magazines or websites like Pintrest to get ideas.
Here's a few examples of therapeutic gardens with specific goals for different users at one of Thrive's locations in the UK. At Trunkwell Gardens in Beech Hill, near Reading, they have created five small gardens, known as the Garden Gallery, for people with specific disabilities. The gardens are small, each the size of a typical new build back garden, and focus on gardening solutions and creative ideas for those coping with particular challenges.
This is the 'Hearts and Minds' garden. This garden has been designed and planted for people recovering from a stroke or heart attack.They may be challenged by partial paralysis, reduced mobility, limited vision, loss of sensory capacity and physical weakness.
'The Journey' is an uplifting garden for people recovering from a mental illness, particularly depression. The garden promotes well-being, stimulates the senses and inspires creativity.
This garden was created for children and young people with special educational needs.
Elements of a Healing Garden for Your Home Garden
Once you have an idea of the style of garden that you would enjoy, and your personal goals for the garden, you can start to incorporate elements that match them. Here's some common elements in healing gardens.
Nature as Nurture
Spending time in nature has so many benefits for our physical and mental health. Even the smallest garden can be designed to incorporate nature. A small bird bath or bird feeder can provide opportunities for viewing birds and hearing their song. By including plants that are favoured by pollinators, you can enjoy watching ladybugs, bees and hummingbirds in your garden.
By incorporating a bird bath and plants that provide food and shelter, even a small garden space can bring the sights and sounds of birds.
Comforting Sounds
Peaceful and soothing sounds can be part of the healing qualities of the garden. Plants that rustle in the breeze, the soothing sound of running water, and wind chimes that release calming tunes are some options.
The Healing Power of Plants
Plants have the power to heal and revitalize in many ways. Many herbs have medicinal properties, and can easily be incorporated into a small garden or even garden pots. Mint and lemon balm are plants that do well in pots (and won't run rampant as they can tend to do in garden beds) and that can easily be picked and steeped to make simple, healthy teas. If you have more space, moon gardens and mandala wheels or medicine wheels can be easy to set up by removing areas of lawn.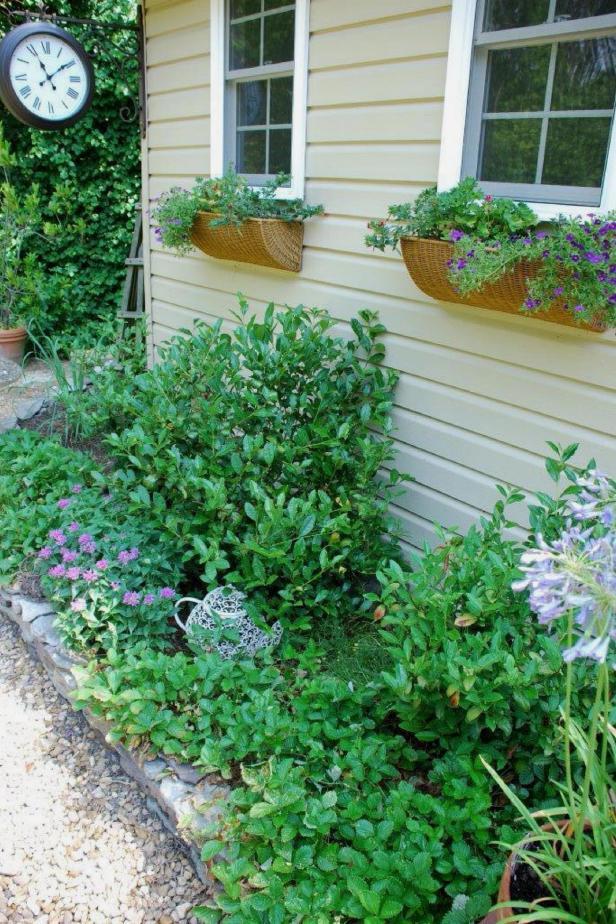 The photo opposite show how a small raised bed had been turned in a 'tea garden', incorporating different types of Mints, Lemon Balm, Lemon Verbena, Monarda and Chamomile.
Picture taken from http://www.bhg.com
A vegetable garden can be planned to incorporate foods that provide specific vitamins and minerals that you may benefit from (and as an added benefit provide opportunities for exercise and Vitamin D uptake in their maintenance). Fragrance garden can be used to provide scents that are personal favourites or to grow herbs that are well-known for their healing properties (lavender is a commonly used essential oil in calming and de-stressing remedies). For some, a garden that incorporates flowers that can be cut and/or dried provides an output for their creative interests. As with your overall goal for creating a therapeutic space, think about what you  enjoy and are interested in, and incorporate that into the space available to you.
Feeling Inspired?
If you want some help creating a healing garden, feel free to contact us about our services. Click here. 
What to Read Some More?
Monty Don, the much-loved British gardening expert, has been open about his mental health struggles. In this article, he talks about how gardening as offered him much-needed therapy during bouts of depression.
In 2018, The Chelsea Flower Show featured the RHS Feel Good Garden. Read an article with the garden's designer here. 
After the Chelsea Show, the garden was transferred to a senior's care facility. Watch the video here. 
In his TV series Love your Garden, Alan Titchmarsh surprises homeowners dealing with difficult life circumstances with a garden makeover that helps them cope with their particular situation. Season 1 is currently on Netflix.